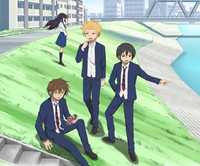 12-episode non-genre anime with no specific protagonist about members of an all-boys school. Produced by Square Enix and Sunrise. Episodes typically contain five to seven short stories with an extra "High School Girls Are Funky" clip after the ED.
Contains non-plot-revealing examples of the following concepts:
Humorously abusive older siblings
Bokke/Tsukkomi routine
Cross-dressing
AFTER YOU HAVE FINISHED
Edit
When Tadakuni wakes up from his dream in Ep. 12, it's an identical scene to one in Ep. 4. Tadakuni begins to have much less of a role after Ep. 4. Ringo entirely exists within those episodes, along with a pair of high school boys talking about how she doesn't exist. Most of the less plausible events in the storyline also take place in those episodes.
Think about it.