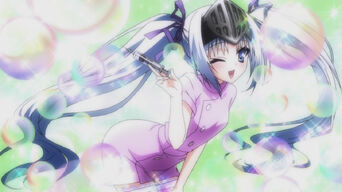 Ayumu Aikawa is dead - or was dead. This Ordinary High School Student has since been resurrected as a zombie by necromancer-knight Eucliwood Hellscythe ("Eu"/"Yuu"), who is now living at his house. Relaxing in the cemetery one night while searching for his killer, Ayumu witnesses a girl named Haruna fending off a giant monster with her magical chainsaw. She is a Masou Shoujo, having come from the magical world. As Haruna attempts to erase his memories, she ends up erasing her own powers (and outfit) by mistake. The Megalo won't cease attacking, though, and as Haruna is quick to discover, her powers have transferred to Ayumu instead. Ayumu is now a zombie and a magical girl, and hijinks ensue.

Originally a series of Light Novels (totaling eight as of November 2011), Kore wa Zombie desu ka? was adapted into an anime in the winter 2011 season. A second season started airing in April 2012 officially named: Kore wa Zombie desu ka? Of The Dead (Is This A Zombie?: Of the Dead).

Funimation has licensed the series and will release it under the translated title Is This A Zombie?. Similarly, one of the three manga adaptions was licensed by Yen Press and will begin publication in March 2012; it is unknown if this is the original manga, the Yonkoma gag adaption, or the more ecchi-focused "Yes, I'm your Wife" adaption.
This Anime Contains Examples of:Edit
Haruna: <catching her breath> Don't look.Sera to Ayumu: You were watching us? You are a despicable peeping dung beetle.
Ayumu: "It's 'señorita', you fantasizing maniac."
"I think you're a dung beetle, but I do respect your strength."
Maelstrom later becomes his wife.
Saras(v/w)ati has a thing for his butt.

The Magnificent: Ayumu has gained a title from each girl, basically.Haruna: Pervert.
Seraphim: Dung beetle (with variations; often translated as "piece of shit" to sound even more insulting) Eucliwood: Servant (she did resurrect him...) Sarasvati: Kuso-Darling (she likes his ass)
Ayumu: "(after Yuu wakes up) What a relief!"Yuu: "Is it over?"Ayumu: "For now."Yuu: "Thanks. (pauses writing) You did well, servant."Ayumu: "Don't make it complicated."
Various: "THAT ISN'T A KICK!"
Ayumu: Umm, why are we in leotards?Yuu: (written) Aesthetics.
Sinister Scythe: Yuu can transform her notepad into one.
Sleep Cute: In the OVA, Mael and Haruna, of all people.
Sliding Scale of Comedy and Horror: Tending more to the comedy side.
Spell My Name with an S: Yuu/Eucliwood Hellscythe.
Stealth Hi/Bye: Seraphim combines her ninja skills with vampire skills to invoke this trope.
The Stoic: Yuu. Due to her Power Incontinence, any emotion she shows could have dire consequences.
Stripperiffic: When Ayumu makes an idle wish while having Yuu's magic inside him, this happens to the girls, combined with Zettai Ryouiki. Also Saraswati and Seraphim's idol outfits.
Stupid Sacrifice: Kerberos, as if sacrificing yourself to protect a nigh-immortal zombie is not dumb enough already.
Supernaturally Delicious and Nutritious: Yuu's magic is what's attracting the Megalo.
Superpower Meltdown: When Maelstrom got injured in Episode 9, it triggered the invocation of her superweapon Mon, which nearly self-destructed. A Cooldown Hug wound up saving her.
Super Strength: Ayumu can punch stuff stronger than an average human due to the fact that he's a zombie and is no longer constrained by the human body's natural limiters.

Subverted. Ayumu lacks several Required Secondary Powers, namely the actual physical strength to withstand the stress that puts on him.

Just like Newton's third law of motion, for every action there is an opposite and equal reaction. If you're hitting something with 800 pounds of force, it's going to hit back.

Swipe Your Blade Off: Kyouko's an offender.

Although it's semi justifiable that she's not human to begin with...

Talking Weapon: Mysteltainn-sama.
Tall, Dark, Bishoujo And Very Snarky: Seraphim and Sarasvati.
Team Chef: Ayumu cooks most of the food the girls eat.
Those Two Gals: Kanami and Taeko.
Thou Shalt Not Deplete Thy Opponent's Life Supply: Ayumu adheres to this rule when dealing with Kyouko, chainsawing away all but her last life.
Through His Stomach: Haruna, with Tsundere goodness.

Ayumu will do this for Yuu.
Kanami suggests Yuki do this in order to win over Ayumu. Cue Yuki imagining herself in a Naked Apron.

Yuki kind of overdid it when she first tried... those sauces weren't really neccessary.
It looked like something Van would eat.

Tokyo Tower: Monumental Battle! With a concert of Vampire Ninja Maids.
Tomboy and Girly Girl: There's plenty of it between the girls, with Seraphim being the Tomboy to Eucliwood and Sarasvati's Girly Girls and the Girly Girl to Haruna and Maelstrom's Tomboys. Maelstrom is basically the Tomboy to everyone's Girly Girl, and Chris is the Girly Girl to Haruna's Tomboy.
Too Soon: The last three episodes were delayed a week due to the Sendai earthquake. Apparently, the broadcaster decided that showing an anime with "violent content" so soon after the 9.0 earthquake would offend sensitive people.
Transformation Sequence: Done multiple times. Pose for pose. Once with a cute girl, and once with a... teenage boy. Same movement. Same outfit. Same Panty Shot. Brain Bleach, anyone?

In Episode 11 they transformed at the same time.

True Companions: Ayumu and his Unwanted Harem of Eucliwood, Haruna, Seraphim and Maelstrom are shaping up to be this.
Tsundere: Haruna (Type A) and Maelstrom (Type B).

And in the previews of episodes 5-7, Haruna's a Meido of the Tsundere Cafe.
Seraphim, although her case is hinted to be more about (begrudging) respect than romance.

Two Lines, No Waiting: There's the Monster of the Week that the Magical Girls are fighting, and now we have a vampire ninja war about to erupt... and based on the ending of the second episode (and Japanese Wikipedia) we know there's at least 1, maybe 2 more girls coming. And there's apparently an organization that's not happy about Ayumu being resurrected without the proper paperwork.
Unusually Uninteresting Sight: A huge explosion blows Ayumu and the Lobster Megalo out of a window in his school's third floor. He cuts it in half with a chainsaw in mid-air, lands leaving a huge crater, stands up unhurt and the only thing his schoolmates find strange is his frilly pink outfit.

Maelstrom having couple arguments with Ayumu in public doesn't cause a stir at all. Note that they're still highschoolers (read: below 18, the typical legal age) when they got "married".

Vampire Invitation: Subverted, since Seraphim just appeared out of the blue. Justified considering the fact that she's a ninja.
Vapor Wear: Haruna's rather obviously not wearing any pants since losing her Magical Girl uniform. Fridge Brilliance when you realize she wasn't expecting to be stuck on Earth, yet alone without her magic.
The Voiceless: Subverted. Yuu, due to Power Incontinence, has to communicate with written notes.
Weaksauce Weakness: Zombies and direct sunlight.
Weapon of Choice: So far it looks like...
Well-Intentioned Extremist: Sera's faction has put a contract on Yuu as of Episode 9 for being a Megalo magnet. Sera herself could've easily become one as well had Ayumu not talked her out of killing her.

The King of Night could arguably be this as well. His main motive for summoning all the Megalo was simply so that Yuu would let him die/fade away, but she initially refused because she still considered him a friend. Had she of just granted his wish when they first met in episode 8, episodes 10 & 11 probably wouldn't of happened.

What Do You Mean, It's Not Awesome?: Random street break-dancing to pick up girls.
What Have I Done: Ayumu really comes to regret what he wrote for Tanabata in episode 9. The three girls wrote various things they wished for. In Yuu's case, she wanted to stay with Ayumu and the others. Ayumu, meanwhile, wrote "May none of these things come true." probably as a joke, but then Yuu leaves shortly afterwards.
What the Hell, Hero?: Ayumu to Seraphim in episode 9 after she tells him her superior wants Eucliwood's head for being a Megalo magnet and that she's been selected for the sanction. This leads her to refrain from performing the sanction, and she continues to hold that position even after she's nearly sanctioned herself as punishment for bailing out.
White-Haired Pretty Girl: Yuu.
Whole Costume Reference: Ayumu, Eucliwood, and Seraphim all wear the jumpsuits made famous by the Kisugi sisters in one segment of the OVA.
Wholesome Crossdresser: Ayumu, Masou Shoujo mode.
Who's Laughing Now?: Kyouko wasn't laughing mad anymore when Ayumu found her weakness (her reliance on souls of people she killed in order to regenerate) and started hacking away at all but her last life.
Who Wants to Live Forever?: The King of the Night to Ayumu:"Someday you will understand the pain of immortality. So please... even if that day comes, do not blame Eucliwood."
Wire Dilemma: Cut the red wire or the green wire?
Words Can Break My Bones: Anything Yuu says will come true. ANYTHING.

Also to a lesser extent Ayumu vs Kyouko in the anime. It's pretty much this when your harem and the villain call you a pervert after you've done your Transformation Sequence.

You Have Failed Me: Rare heroic example: Seraphim was nearly offed by her own faction for disobeying orders to kill Yuu.
Your Princess is in Another Castle: Woo hoo, Kyoko's defeated, Ayumu's avenged his own death... Wait, we still have 6 more episodes.
Zettai Ryouiki: Haruna, with garterbelts.